McArthurGlen Designer Outlet Ashford has revealed its £90 million expansion, which incorporates Europe's largest living wall installation, delivered by green infrastructure company, Biotecture, and McLaren Construction.
The £1.5 million green wall, which measures 25,000 square feet and features 120,000 plants, reduces air pollution and aids biodiversity. Spanning the walls of the new entrance promenade, walkways and many of the 50 new stores, the vertical gardens make this one of the world's greenest shopping centres.
McLaren was the principal contractor, developing over 100,000 sq. ft of additional retail space to bring the total size of the designer outlet to more than 285,000 sq. ft. As well as new stores, the project included the construction of an events space, food piazza, interactive children's play area, and 725 additional car parking spaces.
Richard Sabin, Managing Director of Biotecture, commented: "It's wonderful to see nature having such a prominent role in the shopping centre's expansion. Not only will the living walls enhance the ambience for visitors, they will improve air quality and biodiversity."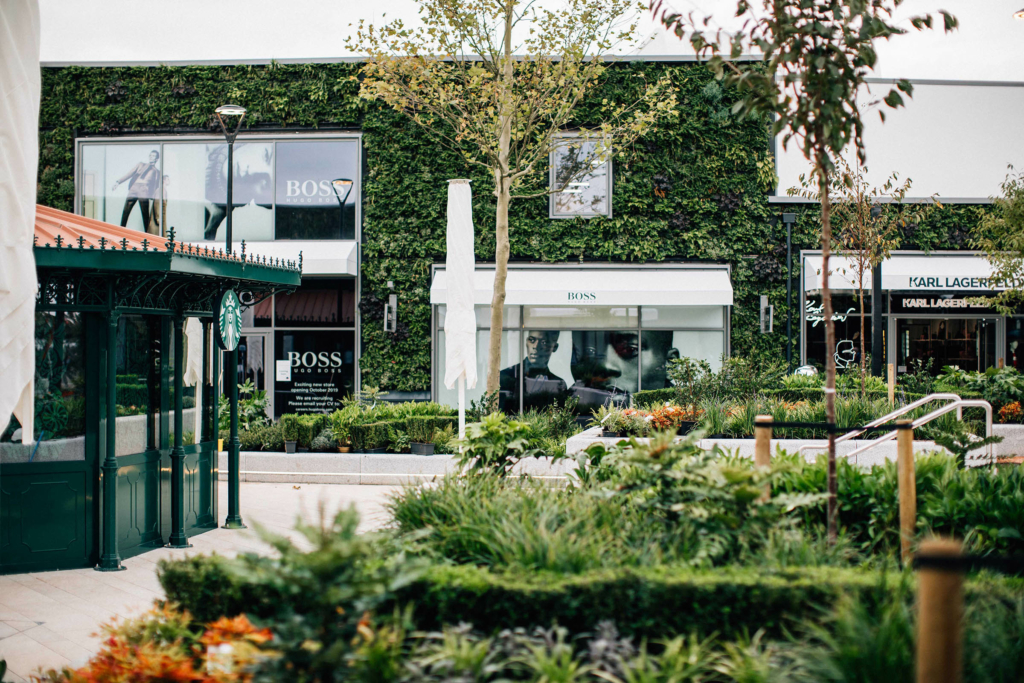 Throughout the construction phase, nearby wildlife was protected to create a 'biodiversity net gain'. Working closely with the Environment Agency, the project team developed a plan to protect the nearby stream dynamics during the construction works. Endangered species were relocated and then released back into the new habitats around the outlet during the summer of 2019.
As South East England's leading designer outlet, and just over 30 minutes from London, our centre has seen 18 years of growth and evolution. We welcome over 3.6 million visitors every year and in response to market demand, this autumn we are launching a new phase that will elevate the whole shopping experience for our guests and the retail environment for our brand partners. This spectacular living wall installation is a key feature of this exciting expansion that will attract new shoppers locally, from London and also internationally

Peter Corr, Centre Manager, McArthurGlen Designer Outlet Ashford
Jay Newman, Managing Director, McLaren South, said: "Living walls are proven to help uplift people's mood, reduce air pollution and aid biodiversity – this installation creates a calming atmosphere at the focal point of the new shopping space, with beautiful vertical gardens covering the walls and providing new habitats for local wildlife."
"The overall design of this project has created an outstanding, environmentally friendly retail destination in a great location. We are proud to have been a part of McArthurGlen's vision for modern shopping in Kent."
Main construction works were carried out in a live retail environment, with much of the landscaping and roadworks built into an innovative out-of-hours work schedule to minimise disruption to shoppers and local people.
ITV Meridian filmed an interview with Biotecture Director, Richard Sabin on site at the McArthurGlen Designer Outlet Ashford. To see that news piece including some spectacular drone footage over the site you can visit the ITV News website.
If you'd like to discuss how your projects could benefit from living walls, contact our team on enquiries@biotecture.uk.com
To see a selection of living walls in retail environments you can visit our portfolio.