In just three days, green infrastructure specialist, Biotecture created a garden for the staff at NHS Nightingale London. The space outside their change and shower Portakabins where all staff collect their scrubs has been transformed from a dusty utilitarian space into a greener, more welcoming environment in which to unwind at the end of a shift.
When the hospital is fully operational, 1,600 members of staff will pass through the area every day to access clothing, showers and changing rooms. The 100m2 central breakout area features a 2.4-metre-high vertical garden backdrop, trees, artificial grass and outdoor furniture.
Living wall specialist, Biotecture, was approached by contractor, Mace, seeking a vision on improving the look and feel of the area. Biotecture's MD, Richard Sabin, immediately offered to donate plants, staff time and 600 of their vertical planters, PlantBox to build the Nightingale wellbeing garden for the staff. Richard then got to work calling on local West Sussex nurseries to donate thousands more plants and a host of other businesses to donate trees, pots, seats, parasols, artificial lawn, and irrigation services. Friends volunteered their time to help plant up the living walls, and Richard also called on renowned garden designer, Patrick Collins, for a design that worked within the limitations of the site.
It's just gorgeous, it makes such a difference. We get stuck indoors and forget about the sun! It will be lovely to sit here and get some fresh air.

Liz Wells, Associate Director at St. Mary's General Hospital, working as Operational Manager at Nightingale
The Biotecture team had just two days to coordinate everything and plant up the vertical garden, and then one day on site for the installation.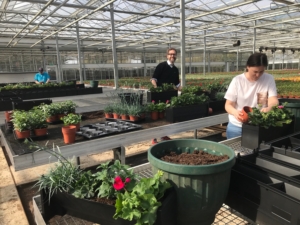 Richard Sabin, Managing Director of Biotecture, said: "We're delighted to be able to give something back to the amazing doctors, nurses and other NHS staff, working tirelessly to support us during this crisis. The feedback from staff so far has been absolutely wonderful and we hope the garden can provide some solace before or after a shift at the Hospital.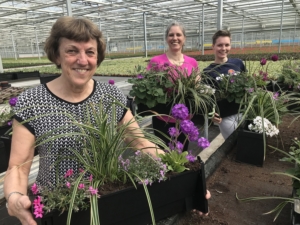 "This was truly a team effort. I was blown away by the support we received. The volume and value of items which were willingly volunteered was very humbling. It really was a rewarding project to lead, and I would love to be able to offer this to other hospitals."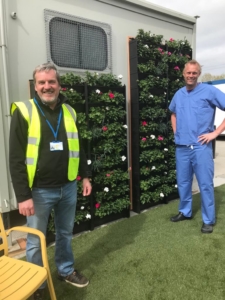 The PlantBox living wall system used at the NHS Nightingale ExCel garden is easy to install and look after yourself. This stackable and modular, easy to install living wall system that features self-contained irrigation, made in the UK from 100% recycled plastic. PlantBox has been designed to transform neutral or uninspiring spaces into green and inviting indoor and outdoor environments.
Thanks to a simple wicking irrigation system, there is no need for messy or complicated pipework, giving plants what they need to go weeks between watering's.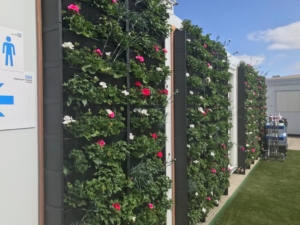 Every PlantBox order sold through our website carries a minimum £3 donation to the PlantBox Trust, a charity organisation focused on investing in projects and other charities that are working to provide green spaces, clean water, good nutrition and reduced air pollution. You can be assured that your purchase is helping others in our global community
We believe in a greener planet and want to share our vision with as many people as possible so why not visit https://www.growingrevolution.com/ to find out how you can grow your own vertical garden at home.