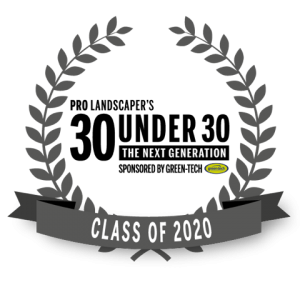 A huge pat on the back to our Growing Revolution General Manager Matt Lindsay, who was recently selected by ProLandscaper as one of the 30 Under 30 landscape and horticulture professionals in the UK for 2020!
Matt joined Biotecture in 2017 as Operations Assistant and quickly made his mark. He worked his way through the company as a Project Manager, before being promoted to General Manager of Growing Revolution, Biotecture's new sister company, at the start of 2020. In addition to launching our new modular vertical planter PlantBox this year, Matt was also selected to take part in the UK Green Building Council's prestigious Future Leaders Programme 2020.
Head of Marketing Kirstin Monk caught up with Matt to find out more about his fantastic achievement and what he's learnt in his career so far. Here's their conversation:
KM: Matt, wow, what a year for you! Congratulations!
ML:  Thank you! 2020 has certainly been a year to remember for me, both professionally and outside of work. In a year that continues to bring so much uncertainty to so many, I feel so privileged to have been recognised for the work that I do.
KM: At the age of 27 you've been recognised as one of the top young professionals in our industry, how does that make you feel?
ML: Sounds good when you say it like that! I've not really considered my age having much bearing on where I should or shouldn't be career-wise, but to say I am proud to have been acknowledged by other industry professionals would be a huge understatement.
I'd also like to thank MD Richard Sabin and the Biotecture team for their support and belief in me. I've been given some amazing opportunities and feel very fortunate to work for such a progressive company. It's great to be part of a strong leadership team who inspire and challenge me in equal measure.
Plus, I would also like to thank ProLandscaper and Green-Tech for facilitating this brilliant award!
KM: Tell us a little about UKGBC's Future Leaders Programme and how you were involved
ML: I saw the UK Green Building Council share a post on social media about a programme that brought together young professionals working to improve the construction, landscaping and property sectors. When I spoke to Richard [Sabin] about the programme he said I had Biotecture's full support which was a big moment for me.
Fast forward a few months, and I had attended a variety of inspirational workshops and webinars on becoming a sustainability leader with other industry experts and professionals. Ranging from CEO's of large corporates, to sustainability leaders, to innovators and educators, we were able to see the tireless work being done to ensure the built environment will be fit for the future, and to help understand where we fit in driving a new wave of positive change.
From attending this course I've made some valued friendships with other like-minded young professionals, and together we hope we can help make a lasting impact on our built environment for future generations.
I would thoroughly recommend others get their applications in for next year's course: https://www.ukgbc.org/ukgbc-work/future-leaders/

KM: What were your biggest takeaways from participating?
ML: To never underestimate the power of storytelling to get your ideas or message across. Good communication is key to changing mindsets or persuading others to think differently – why not use your own passion for what you do to help lead and inform others?
I'd recommend watching President Obama's 'Fire it up!' speech if you haven't come across it yet – a prime example of what I mean!
KM: What do you enjoy most about your role?
ML: One week I'm leading on an Air Quality research project in a lab at UCL, and the next I'm launching a new sustainable living wall product during a global pandemic! No two days are the same which is not only hugely exciting, but also places me at the edge of my comfort zone – something that in retrospect has heightened my get-up-and-go attitude which I think is vital to keep pushing our industry forwards.
KM:  So, what does 2021 hold in store for you?
ML: 2021 will be a really important year for me. I'll be continuing to work and collaborate alongside businesses and organisations to help them reconnect with nature through living walls and green infrastructure projects. Biotecture will also be exhibiting at the RHS Chelsea and RHS Hampton Court shows which will also be a massive highlight for me personally.
As and when restrictions are lifted, I'll also be looking forward to meeting the other winners of this year's 30 under 30: The Next Generation cohort.
On a personal note, I've got a new allotment (very rock n'roll!) so I'll be getting my hands dirty at weekends. Oh, and I'm due to get married in April which is a pretty big deal!
KM: What advice would you give anyone considering a career in landscaping or horticulture?
ML: With talk of a 'green recovery' in the wake of Covid-19, the landscape and horticulture industries will be playing a vital role in ensuring our landscapes are fit for the future. We'll need help in getting there, so I would encourage those with an interest in sustainability and green spaces to get involved and join the green revolution!
In just over 3 years, I have been fortunate enough to be given a number of opportunities which has allowed me to get where I am now – working across a dual management role and overseeing the launch of our new game-changing living wall product PlantBox. This is proof that no 5- or 10-year career plan is ever set in stone – be open minded to what's around the corner, work hard and grab opportunities with two hands!
Also, the world is rapidly changing around us, so be curious and ask questions – all industries are facing huge changes at the moment so now is the time to make your voice heard. Help make the UK landscaping/ horticulture industry the best it can possibly be!