We are delighted to announce that three of our projects have secured recognition in this year's plants@work awards. It is important to us as a company that we provide customers with a long-term solution and that our living walls continue to look good. Our maintenance teams are a vital part of that commitment. The plants@work awards are designed to recognise teams and individuals that are performing their functions to the highest possible standards, so we are proud to have been awarded Gold Leaf Awards for our maintenance work at St Luke's Hospital, Oxford, and the Ashford Designer Outlet in Kent. We were also awarded a Good Will Leaf Award for our work at the NHS Nightingale Hospital in London.
Here we look at each of the three projects individually and highlight some of the reasons why the judges at plants@work selected them:
Project:            NHS Nightingale Hospital, ExCel Centre, London
Category:         Charity project/work   
Award:             Good Will Leaf Award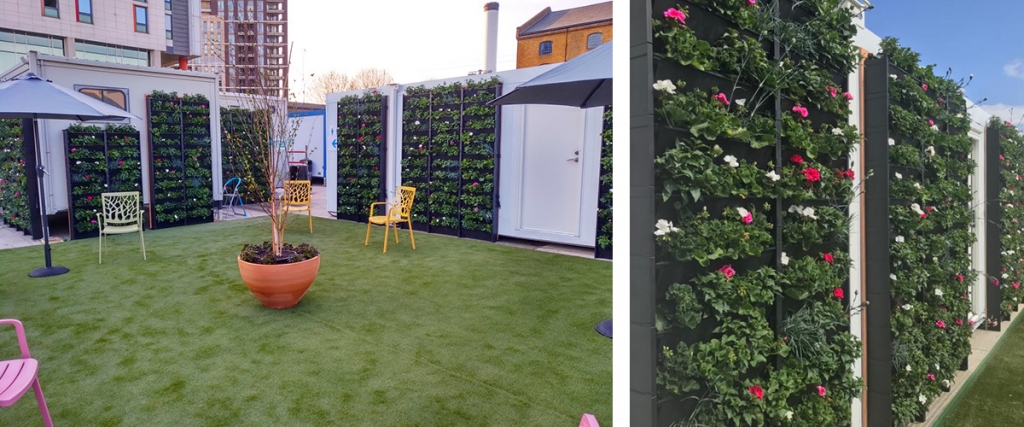 The Biotecture living wall at NHS Nightingale Hospital at the ExCel Centre in London transformed the look and feel of the temporary staff area, and as one NHS staff member said: "It's just gorgeous, it makes such a difference. We get stuck indoors and forget about the sun! It will be lovely to sit here and get some fresh air."
We supplied our PlantBox modular freestanding living wall because it avoided weight loadings on the accommodation units. It was simple to install and maintain, whilst delivering maximum impact with minimal fuss.
The award isn't just for Biotecture, it represents the power of collaboration and teamwork with all the local businesses and individuals who donated goods and gave up their time alongside our team to achieve something astonishing in such a tight timeframe.
We are very grateful for their support in making this a reality and accept the award on their behalf; Mace, Pots and Pithoi, Provender Nurseries, Scancom, Greg Hill at Hills Plants, Patrick Collins, Alex Newey and Stuart Whiteman at Newey Nursery, Plants2People, The Farplants  Group, Cameron Irrigation, NamGrass.
Throughout it all, we have to remember the tireless work carried out by NHS workers, especially over the past 18 months during exceptionally challenging circumstances. They are truly inspirational, and we are pleased that our living wall contributed to their wellbeing during this time.
Judges at the awards also commended us for creating a lasting legacy – the PlantBox living walls and furniture were gifted to the Royal Bristol Infirmary after the Nightingale was shut down. The hospital courtyard was refurbished and turned into a wellbeing garden to benefit both NHS staff and patients, particularly those with dementia and those recovering from stroke.
St Luke's Hospital, Oxford
Category: Maintenance
Award: Gold Leaf Award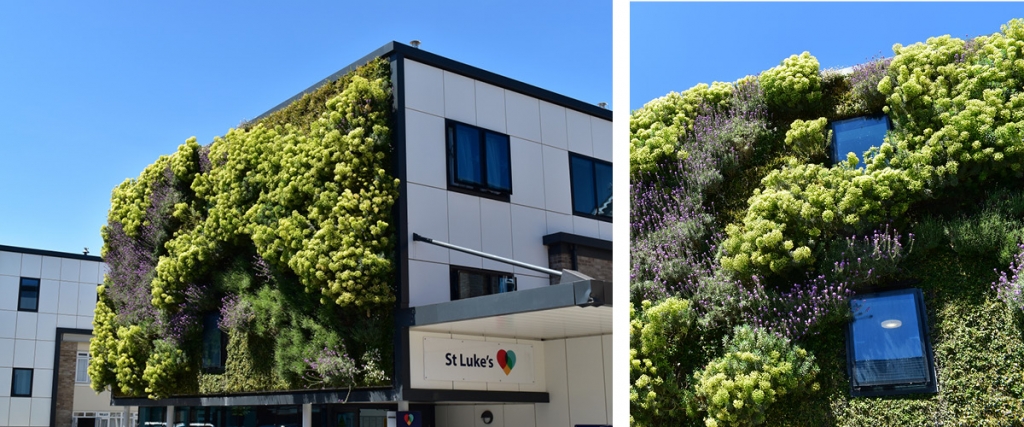 We gained a Gold Leaf Award for our living wall at St Luke's Hospital near Oxford, in the plants@work Maintenance Award 2021.
Working in partnership with contractor Benfield & Loxley, our living wall at St Luke's Hospital was installed across the side elevation of the new reception building to welcome staff, residents and visitors as well as enhance the existing greenery within the hospital grounds. Achieving a Gold Leaf award for Maintenance is testament to our ability to ensure the living wall continues to look its best through every season.
The plant palette incorporates the hospital's logo 'a bird in flight'.  Our in-house design team selected plant species that enhanced the logo within the living wall and the maintenance team now ensure 'a bird in flight' continues to stand out.
Our team are particularly proud of maintaining this living wall at a hospital, given the role plants play in enhancing wellbeing, creating enriching, restorative spaces and helping people to reconnect with nature. The stunning design and mix of colours and textures creates a real 'wow' factor.
Project: Ashford Designer Outlet
Category: Maintenance
Award: Gold Leaf Award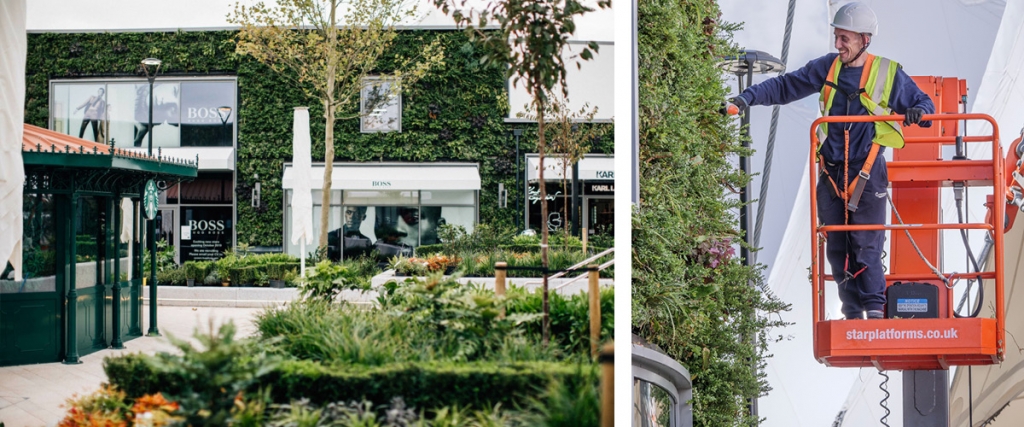 The work of our maintenance team at The Ashford Designer Outlet secured us our second Gold Leaf Award. We originally designed, grew, and installed 25,000 square feet of living walls, the size of 9 tennis courts and 120,000 plants, on this £1.5m hydroponic green wall project in 2018-19.
Our living walls are located across the outlet and required an intelligent irrigation solution comprising a total of three plant rooms and 27 irrigation zones. They are watered via 5km of irrigation line and 6km of 16mm dripline. The walls are remotely monitored by our maintenance team as part of a five year maintenance contract ensuring the plants continue to thrive and look their absolute best, all year round.
What really stood out for the judges when they assigned us a Gold Leaf in the Maintenance category was how the Biotecture team actively encourage interaction with the public at the Ashford Designer Outlet – they often talk through the maintenance works they carry out on the living walls. This has become a tourist attraction in itself!
Here's what Russell Hearsum, our Maintenance Contracts Manager, had to say: "I am really proud of the Biotecture Maintenance team, they have shown such passion and dedication when maintaining our living walls, especially over the last 18 months in difficult circumstances. It is a real credit to the them that they have been recognised with the Gold Leaf Awards for maintaining Ashford Designer Outlet and St Luke's Hospital to such a high standard."
Winning three plants@work awards, two of which were the Gold Leaf for Maintenance (St Luke's Hospital and McArthurGlen Designer Outlet Ashford) and a Good Will Award for our living wall at NHS Nightingale Hospital at the ExCel Centre in London, is testament to the hard work and dedication of all our team.
"I'm delighted that the passion, hard work and dedication of our maintenance team has been recognised in this way. Fabulous!" Richard Sabin, Managing Director, Biotecture
For information about our living wall services call +44 (0)1243 572118 or email enquiries@biotecture.uk.com