The highlight of the horticultural calendar, RHS Chelsea Flower Show, takes place 21-26 September and this year we're exhibiting as PlantBox to showcase our modular living wall.
PlantBox is a stackable, freestanding living wall system made from 100% recycled materials that is ideal for smaller scale vertical greening projects. Quick to install, easy to maintain and with a clever design to prevent over-watering, PlantBox is being used across the country to transform bare walls, encourage biodiversity and help clean the air, from construction sites to shopping centres and schools.
Our team will be on stand 293 giving demonstrations and sharing our passion for this versatile game-changing product which is available to both consumers and the trade.
We'll also be displaying our freestanding Flourish living wall unit. The perfect solution for offices, reception areas, foyers and courtyards, Flourish features our PlantBox living wall system with an elegant powder coated surround and integrated irrigation system with tank and pump. If you're looking for year-round foliage to brighten up your premises, enhance wellbeing, improve productivity and reduce stress, speak to us about how Flourish could meet your needs.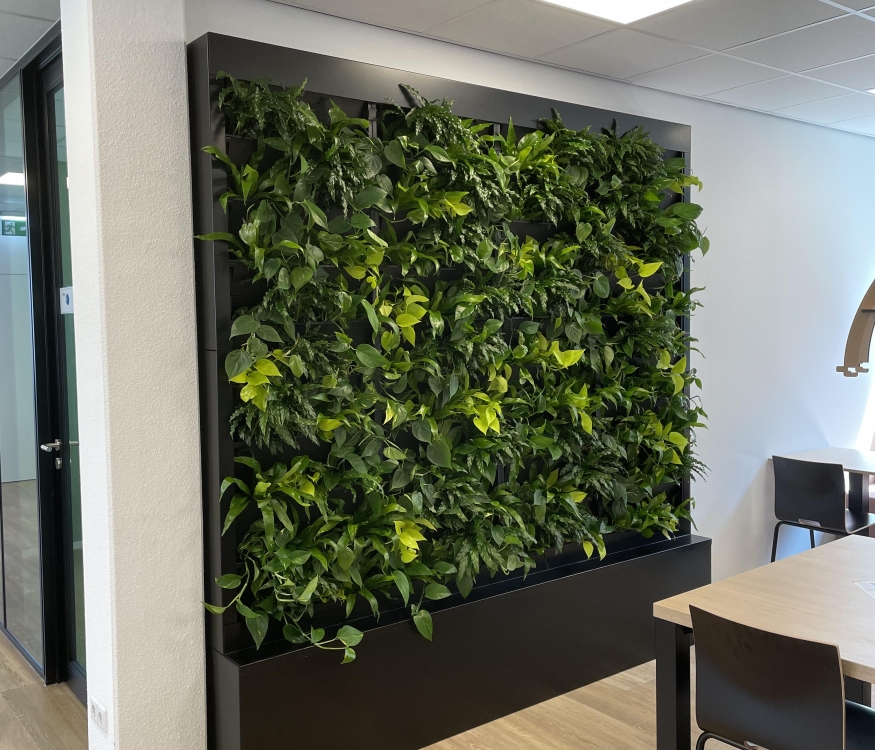 Other PlantBox locations
We're thrilled that PlantBox is also on display at five other locations at Chelsea Flower Show!
This year the focus is very much on sustainability. PlantBox was shortlisted for the RHS Chelsea Sustainable Garden Product of the Year 2021 and will be featured with the other finalists on the RHS Experience stand in the Grand Pavilion (stand 240).
The use of active airflow technology with PlantBox has been integrated into the Guangzhou China: Guangzhou Garden (plot 324). This stunning show garden designed by Peter Chmiel with Chin-Jung Chen highlights the benefits of responsible city planning.
You can also find PlantBox here:
The Pharmacy of House Plants – Connecting Nature and Health – stand 572
The Hot Tin Roof container garden by RHS Young Designer of the Year finalist Ellie Edkins – stand 559
Water The Way Nature Intended: Switch from Mains2Rains – stand 105
If you'd like to find out more about PlantBox or Flourish, chat to our Sales team on 1243 572118 or email enquiries@biotecture.uk.com.