From our award-winning living wall on Wimbledon's No.1 Court to what is being dubbed Europe's largest living wall at McArthurGlen's Designer Outlet Ashford and interviews with the BBC and ITV, we really have been busy.
We've continued to bring the benefits of green infrastructure to urban environments across the country, reducing air pollution, improving air quality, aiding biodiversity, and enhancing aesthetics.

In 2019, we've installed our sustainable living walls at a number of high-profile locations across England, including: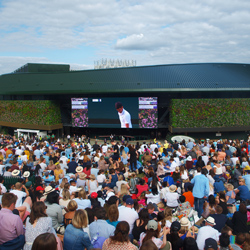 Working with Sir Robert McAlpine and The All England Lawn Tennis Club, our living walls adorn the Big Screen on the Hill and have resulted in us winning a prestigious Living Walls Installations Award from the British Association of Landscape Industries (BALI).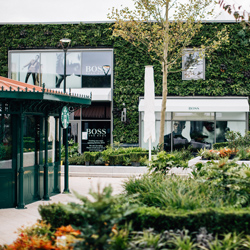 McArthurGlen's Designer Outlet Ashford
We worked with McLaren Construction to deliver one of the world's largest living walls – measuring 25,000 square feet and featuring 120,000 plants – for the shopping centre's £90 million expansion. A film crew visited our nursery in West Sussex to shoot some footage of the plants prior to installation and produced this brilliant "The future of buildings" video.
ITV News reported on the project, capturing some fantastic drone footage and talking to us about how our walls deliver a living cladding system.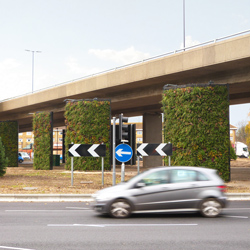 Southampton's new Millbrook roundabout
We worked with Balfour Beatty Living Places and Southampton City Council, installing the UK's first highways living wall in order to reduce air pollution at one of Southampton's busiest junctions. This project piqued the interest of the BBC, who interviewed us about how our green walls will improve air quality in the area.

We've had wonderful feedback from our clients throughout the year.
One comment that particularly resonated was:
"We thought the living wall would be the hardest part of the project but actually it was the easiest."
Peter Corr, Centre Manager, McArthurGlen Designer Outlet Ashford
A key reason we believe we've been chosen to partner on such significant projects is the sophistication of our remote sensoring and monitoring as well as our all-year-round maintenance.
By monitoring our clients' living walls 24/7, no matter what external conditions are at play, our clients can rest assured that their plants are receiving the nutrients they need and the irrigation system is being continuously maintained. And if anything needs our urgent attention, we're on site before the plants even know we need to be!

So, what does 2020 look like for Biotecture?
We're gearing up for another busy year, with several major living wall projects on the go, and we've also been beavering away developing new designed in nature products and systems that we will introduce in the new year. Here's looking forward to growing together, enriching environments and inspiring change.

Richard Sabin
Managing Director, Biotecture
If you'd like to talk to us about how our living walls could be incorporated into your upcoming projects to improve air quality, aid biodiversity and reconnect people with nature, please email enquiries@biotecture.com or call our Sales Team on 01243 572118.