According to the UN, 68% of the world's population is projected to live in urban areas by 2050. As the UK's urban population continues to rise, smart approaches are needed to regenerate our cities through sustainable development.
Successful regeneration is ultimately about creating places where people want to live and work. While many of us may aspire to living in the countryside, that often isn't possible due to lack of housing supply and employment opportunities. The integration of greenery into our urban spaces, from green roofs to living walls, can help satisfy our desire to reconnect with nature and the pandemic has amplified the importance of nature for our health and wellbeing.
There are other good reasons for doing this, too, with living walls, sometimes referred to as green walls or vertical gardens, introducing much needed biodiversity, whilst foliage helps reduce the issue of urban heat island built-up and air pollution.
Middle Walk, Woking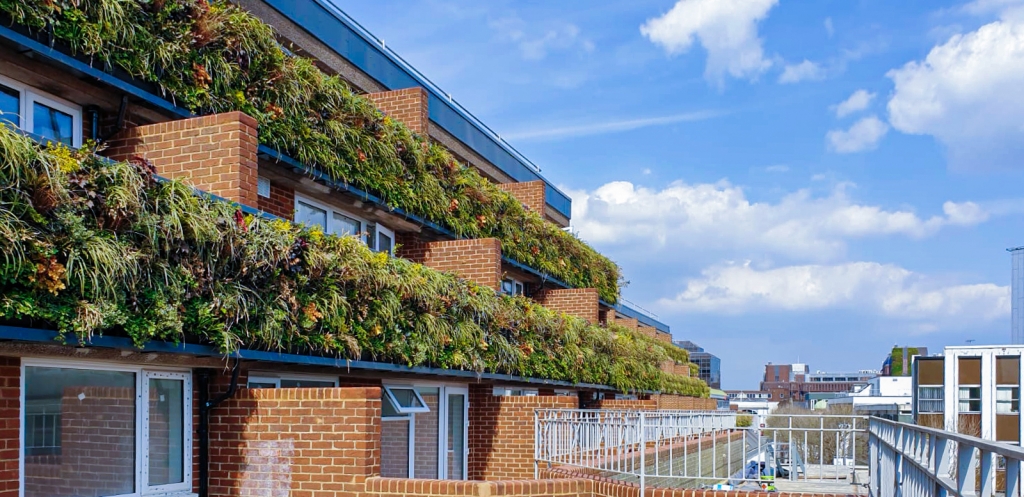 An exemplar project that illustrates these benefits is Middle Walk in Woking town centre, a 1970's residential, retail and leisure redevelopment.  We worked with Eco Green Roofs to help deliver a green envelope solution for ThamesWey, a sustainable communities organisation. We designed and installed a series of living walls, chosen as part of an overall urban regeneration scheme, designed to deliver a new lease of life to the aging town centre. The goal was to create an environment where people want to live, work and grow.
We were among a collaborative group commissioned to revitalise the external facade of the residential units using our living wall system. The project team was looking for ways to add visual interest to the uninspiring external brickwork walls as well as improving air quality and reducing noise from local traffic, whilst offering new residents a more biophilic living environment.
Project outcomes exceeded expectations with the living walls delivering an optimised environment for residents and creating a more attractive experience for shoppers who visit the retail units below. Our maintenance team will ensure the walls continue to flourish and in doing so help increase local biodiversity.
Benefits of living walls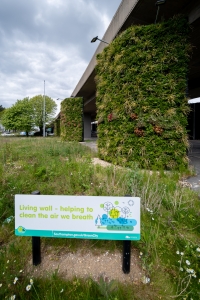 We can see that living walls make a positive difference in the communities in which they are used. There are a multitude of structures in our urban areas that would benefit from 'greening'. For instance, we have been supplied living walls for new and upgrade of multistorey car parks, railway stations, and universities as well as numerous residential and commercial projects.
A number of our living walls have so been specified as part of a strategy to tackle air pollution, such as Millbrook Roundabout, a busy flyover at the gateway to Southampton. The living wall was part of Southampton City Council's air quality strategy in this busy part of the city and was delivered by main contractor Balfour Beatty. We have just received the fantastic news that Balfour Beatty's Millbrook Roundabout living wall project has been awarded a prestigious Gold, Green Apple Award by The Green Organisation.
Air quality is an issue for all UK cities, where it has been calculated that health problems from air pollution costs the country more than £20bn and causes around 40,000 premature deaths. Living walls help tackle this problem by reducing levels of particulates and NO2, which have been shown to have a detrimental effect on those that live or work in urban area. Choosing the right plant varieties can also reduce particulate matter, another serious air pollutant.
Living walls can also help improve the public realm, creating new natural features that soften the landscape and create places where people want to be. Greening cities and urban areas in this way can stimulate the local economy by encouraging more people into the area. We shouldn't forget, either, that when local people fear that a development will spoil their surroundings, they will oppose it; conversely, a well-placed living wall could help during the planning and consultation phases as well as directly addressing concerns of the local population.
Living walls provide architects and contractors with an ability to regenerate our cities for the better. Already, many have grasped the opportunity and specified them on a diverse range of buildings. As a company we are proud to support them in this process, providing high quality living walls for use as external or internal cladding.
For information about our living wall services call +44 (0)1243 572118 or email enquiries@biotecture.uk.com