In 2018 The World Economic Forum polled Millennials across 18 countries, they said that the most important job of a business should be to 'improve society'. Since our founding 15 years ago, Biotecture's mission has always been to reconnect people with nature.
Bringing more plants into our urban spaces brings many benefits for people and the planet from improving wellbeing to reducing air pollution.
Working with our friends at ANS Global we have pulled together 6 living walls that we think have made a positive social impact to their local communities.
This living wall was designed and installed by Biotecture to transform an existing building in Covent Garden. The client's long-term plan was to demolish and replace the building, so the living wall was originally designed as a temporary measure, with planning permission granted for just 2 years. But after seeing the building's transformation, CapCo put their plans to redevelop the site on hold and the living wall was granted permanent planning permission.
Why is this important? In the face of rising climate emissions, designers and developers need to prioritise retrofitting existing buildings over demolition to save carbon emissions. Living walls are a great way to extend the life of existing buildings with the added benefit of enhancing wellbeing, increasing biodiversity, and improving air quality.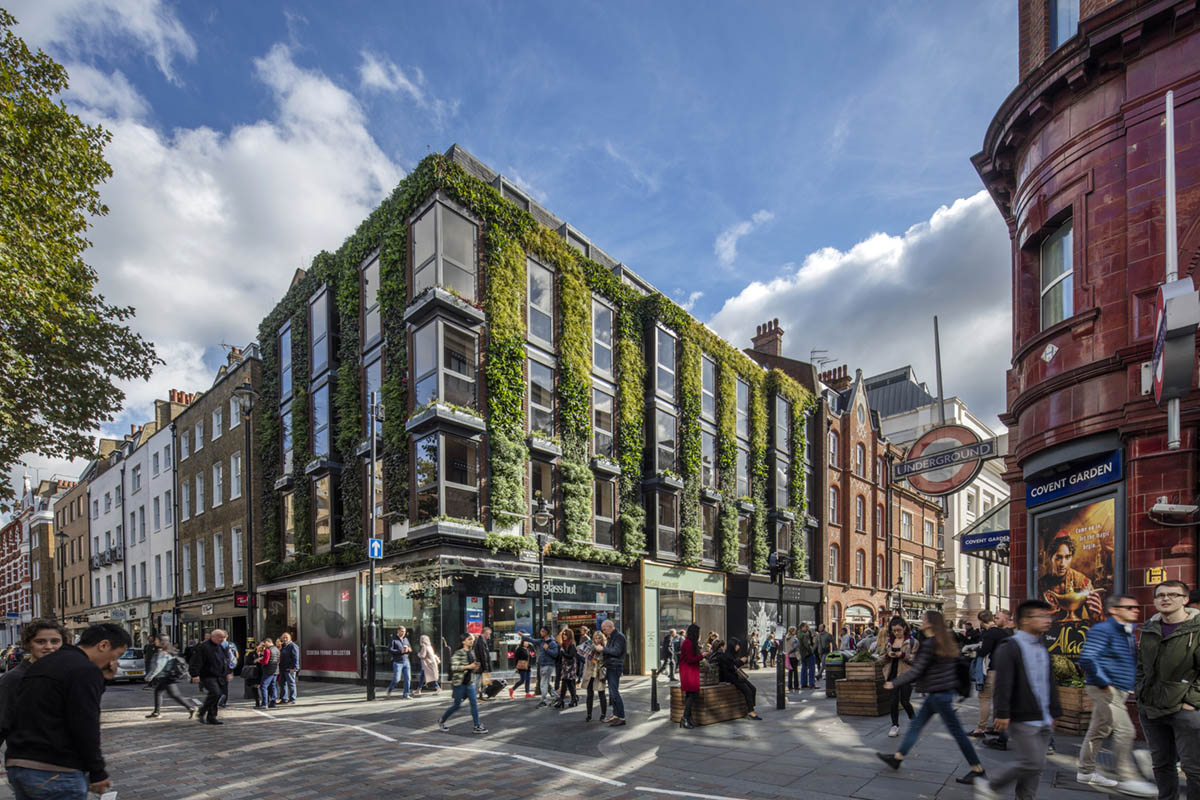 Designed to mimic Van Gogh's famous painting, 'Wheatfield with cypresses', using colourful plant species, this piece of living art was instantly recognisable.  Installed in 2013 by ANS Global, this living wall was located on the hoarding around London's National Art Gallery in Trafalgar Square for just 9 months.
During that time, it had no protection and was open to the public, yet it experienced no vandalism, in one of the busiest spots in London.
When the hoarding was taken down the piece of art unfortunately had to go too.  When ANS Global removed the living wall, they had many questions from the local community asking "where's the wall going next, where will we see it?".  The truth was the wall was going to be given to charity.  "Well we've seen it grow, we've seen it flower and now you're taking it away?" was the sentiment of many of the regular passers-by.
This is a great example of how living walls can positively contribute to the public realm. The community had connected with that space, that space had become valuable to them.  It had become part of their commute to and from work.
We never have seen, even now in 2022, so many people stop and take photos and selfies in front of a living wall installation.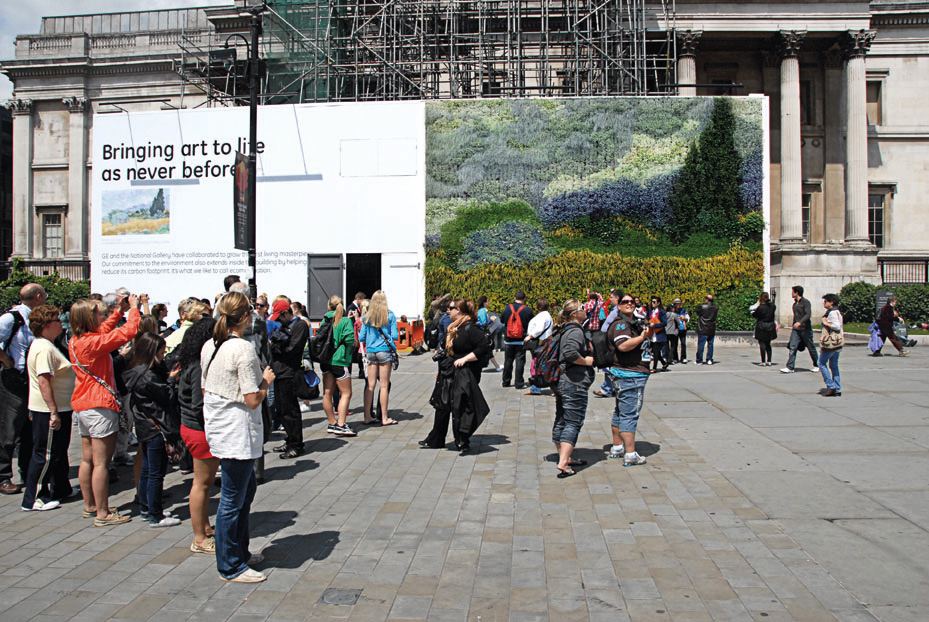 Biotecture worked with Balfour Beatty Living Places and Southampton City Council to create a magnificent and welcoming feature on the Millbrook roundabout, a key gateway to the city. Biotecture designed and installed ten freestanding living wall structures below the Millbrook Flyover, one of the city's busiest roads.
Each year, health problems from air pollution cost the UK more than £20bn and cause around 40,000 deaths. As well as improving the visual appearance of the concrete flyover structure, the living walls will bring down the levels of particulates and NO2 around Millbrook roundabout, reducing exposure to residents and passers-by to these damaging pollutants.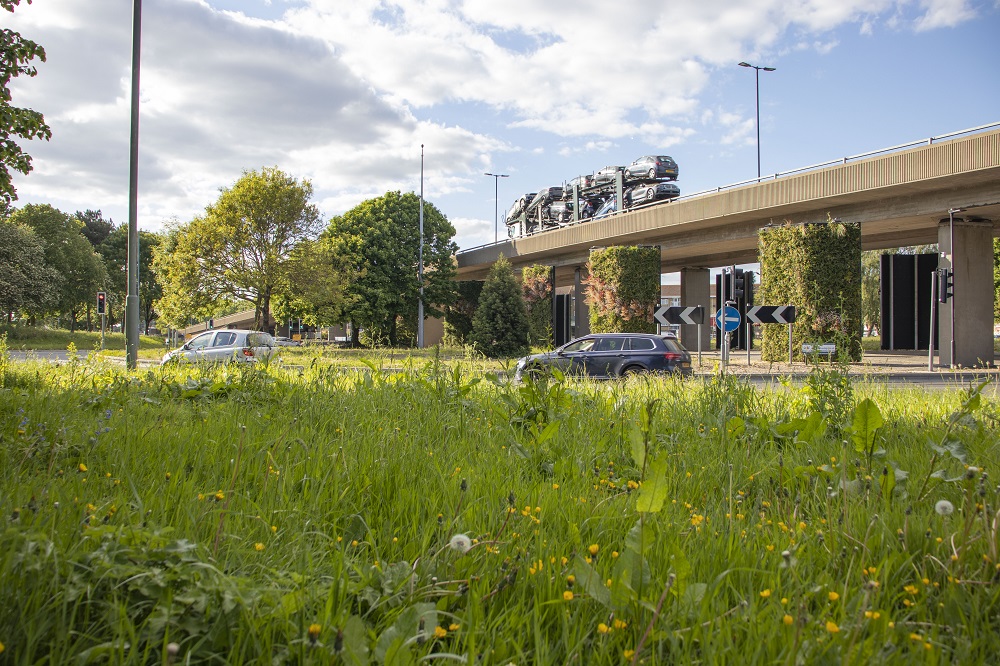 Living walls are great for creating a sense of place This is one of the most unique projects ANS Global have worked on due to the seasonally changing designs. Working with Crown Estates, the long living wall, with a subtle striped design was transformed either with the season, or an occasion.  Valentine's day, Remembrance Day, the start of Spring or as a backdrop to the Wimbledon game…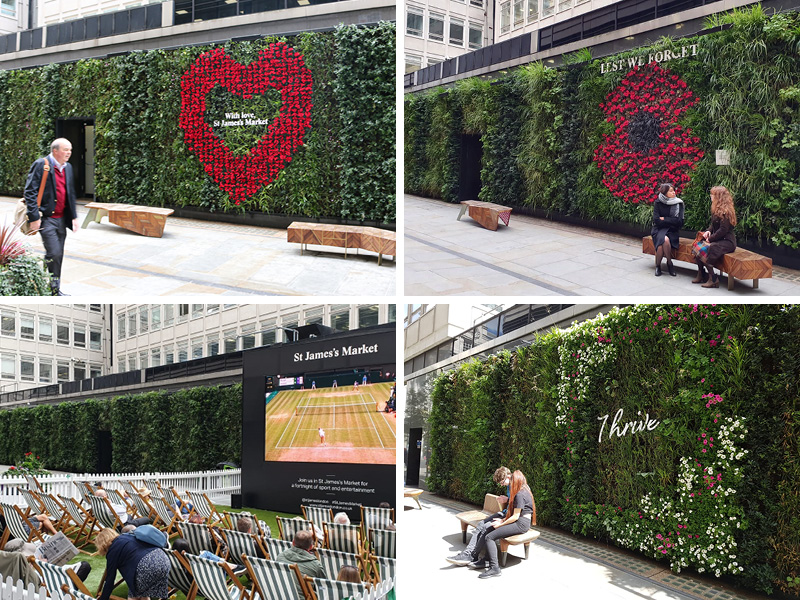 We all have an innate connection to the natural environment, being surrounded by nature is calming and restorative, but this link is often severed by urban living which contributes to increased stress and discomfort.
As part of their commitment to providing revitalising spaces that allow people to reconnect with nature, Canary Wharf Group appointed Landscape Architect Gillespies to create a landscape framework for a large programme of landscaping works across the Canary Wharf estate. Working in collaboration with Biotecture and Willerby Landscapes, Gillespies established a vision and toolkit for each area including modular timber furniture, planters and green walls based on the site's location, character, climate and usage. The scheme was designed to enhance biodiversity, improve wellbeing and create enlivened spaces.
Canary Wharf Management appointed Biotecture to design and install the living wall elements in multiple prominent locations across the estate to enrich the public realm and contribute to their ambitious sustainability goals.
The living walls are formed using 'PlantBox', a unique, stackable, modular living wall system that delivers immediate impact. Using this system allowed Biotecture to deliver a big impact within a short timeframe.
The project has helped to transition the Canary Wharf estate from a Monday-Friday work zone to a seven day a week live-work-play destination.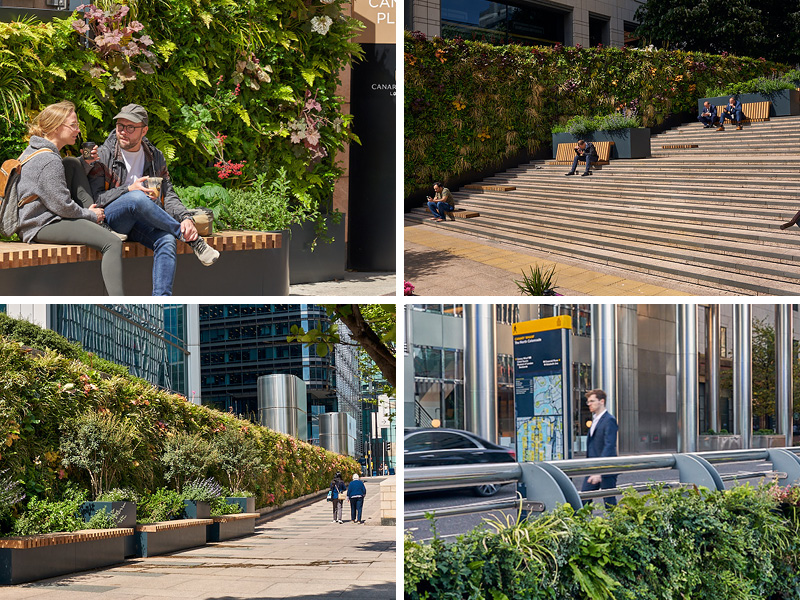 The most recently created living wall in this list, is one that transformed what was called "the ugliest wall in Wiltshire".  We love this project for its social impact – with the initiative started by a local resident, and funded by local groups and council, and then the communities clear delight at the unveiling of the new space.
Stephanie Edwards, a local resident, kick-started the project in 2019 by bringing her idea to the Town Council, as a way to help mitigate air pollution in the town centre.
Local groups of Wiltshire crowdfunded £2,800 to help change the face of the wall and improve the space, with the council making up the difference.
"Funding for the Living Green Wall was extremely difficult during Covid. I approached Councillor Alex Kay to support this initiative and she actively engaged the Town Council and thanks to everyone involved the project has been a great success."
Chair of the Environment & Green Spaces committee, Councillor Alex Kay said: "With the addition of the living green wall, Bradford on Avon is making further strides toward becoming a town which can be held up as eco-friendly and eco-conscious.
"I hope the whole community – residents, businesses and visitors will look on at this wall, smile and think 'what can I do greener today?'"
Using over 3,500 plants, it is not only improving the air quality, but providing alternative ecological habitats for local wildlife.
"Already the plants have brought with them bees and insects, and we've had a couple of birds sitting up there so it's working for sure and we must not forget the health and wellbeing benefits", Stephanie noted within days of installation.
Suddenly, this spot is not one you hurry past, but stop and take in the new sights, scents and atmosphere introduced by the vibrant plants.  The community have noted a clear difference to the feel of the immediate area since the wall was completed.