In the face of Covid-19 and the convenience of online shopping, retailers are having to work harder than ever to entice people back into stores. For many people, shopping isn't just about getting what they need, it's an immersive experience. Creating a pleasant and enjoyable environment for shoppers is vital for attracting customers, and keeping them coming back!
We live in an increasingly urbanised world, but we still have an intrinsic connection to nature. One of the ways we can improve the retail environment is through biophilic design — designing nature into our built environment. This includes considering natural light, improving airflow and bringing in vegetation. Plants have been proven to make us feel good, reducing stress and improving feelings of wellbeing. Shopping is a multisensory experience and including greenery in retail spaces helps to create an environment in which customers can relax, take their time, and shop around.
While traditional planting is not always practical, especially when space is at a premium (financially and literally), living walls offer a dynamic space-efficient solution.
Interior Living Walls: 
When used inside, our living walls can enhance a shop's brand identity, creating instagram-friendly features and communicate green credentials. They also improve the space's air quality and acoustics. In retail it is always important to keep things fresh with different displays and new experiences. Seasonal planting can create an ever-changing feature giving customers something new to look at throughout the year.
Biotecture designed a 160m2 indoor living wall for Anthropologie's flagship European store in Regent Street. The wall fills the full height of the retail space; at 15 metres high, it creates a dramatic backdrop to the retail brand's eclectic and creative aesthetic.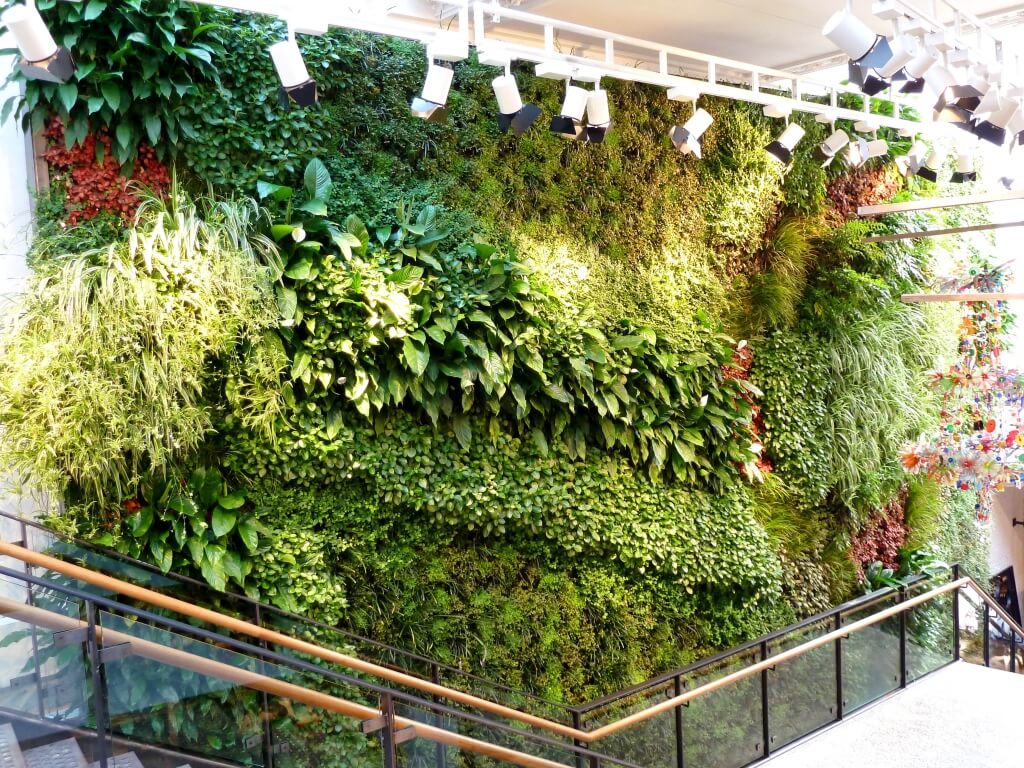 BMW chose to install several indoor living walls into their prestigious London flagship showroom on Park Lane as part of a major refurbishment for their new brand store. The plants reflect BMW's green agenda and provide useful air quality benefits for staff and customers, whilst the minimalistic design is intended to keep customers' attention on the cars on show, while creating a high end, relaxing backdrop.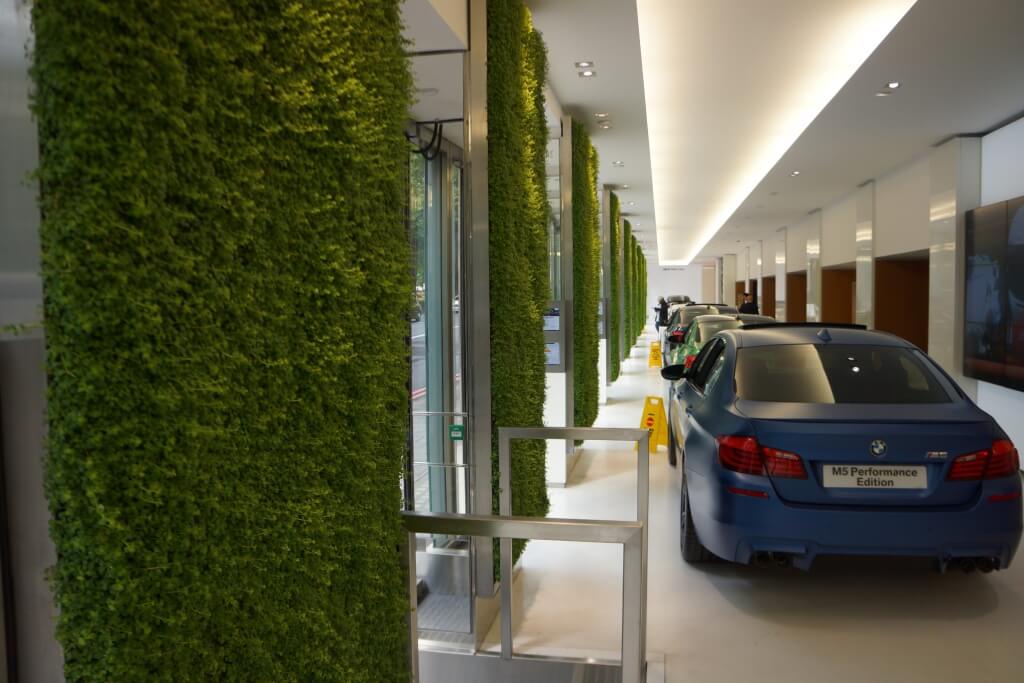 In September 2017 Smeg, the well-known manufacturer of kitchen appliances, opened their state-of-the-art flagship store in London's St James's Market. A big part of the new design was a large internal living wall created by Biotecture. The living wall is two-storey, so can be enjoyed from the ground floor retail space as well as the mezzanine level design lounge and meeting space. The stunning, living wall of lush greens with red, white and silver accents make for a beautiful in store environment and reflect Smeg's love of natural materials and the environment.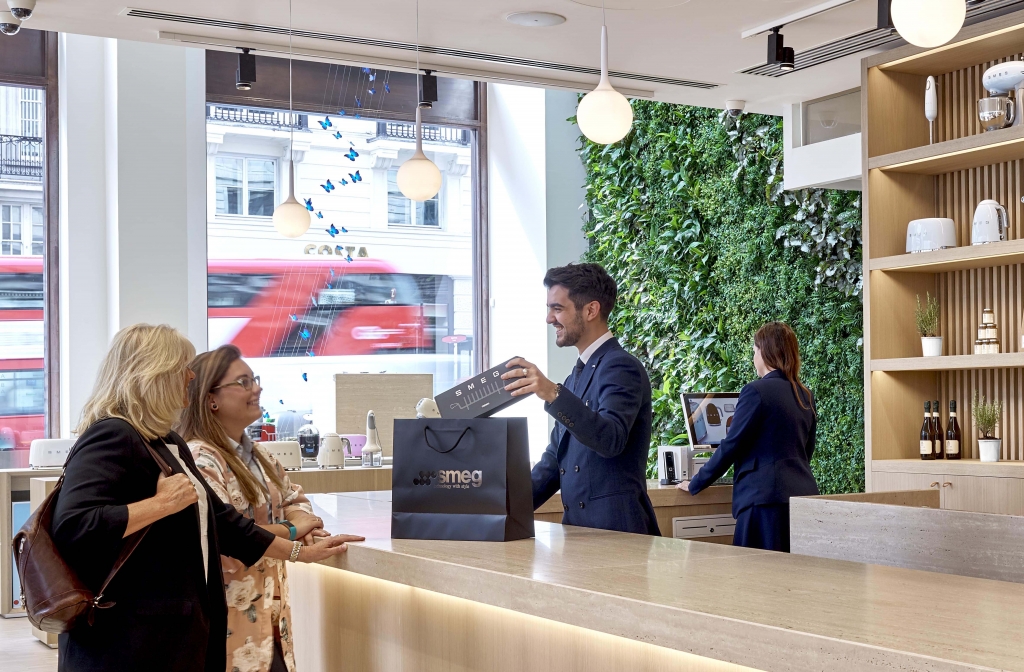 Fosse Park Shopping Centre, Leicester
At Fosse Park Shopping Centre in Leicester, living walls were specified by landscape architects McGregor Smith, to be featured internally and externally to enhance the retail experience and bring shoppers closer to nature. Three of these walls sit with a glass atrium and Biotecture identified indoor plants that would remain healthy despite the large temperature variations.
External living walls 
Living walls can help transform utilitarian areas into attractive spaces that people will want to spend time in. They can be an important part of the landscape and placemaking strategy. For example drawing attention to particular areas of interest or conversely hiding ancillary buildings or structures, such a bin stores.
External Living walls can also help satisfy planning conditions and contribute to biodiversity net gain targets. Biotecture can advise on plant species based on their ecological value to pollinating insects. Habitat boxes can also be incorporated into larger walls to provide food and sanctuary for a range of insects including ladybirds and lacewings.
Here are a few examples of how living walls have been used to significantly enhance the public realm:
McArthurGlen Ashford Designer Outlet
Biotecture's statement living walls are integral to the architectural look and feel at the McArthurGlen Ashford Designer Outlet. They were designed to enrich the retail experience and strengthen the outlet's position as a flagship shopping destination. Working collaboratively with the design team and the main contractor, Biotecture designed and installed over 2,000m2 of living wall to create a rich vertical garden. The green walls help establish a sense of place, and reflect Kent's status as 'The Garden of England'. The project is one of Europe's largest living walls and demonstrates how living walls can be delivered at scale to enhance the urban environment.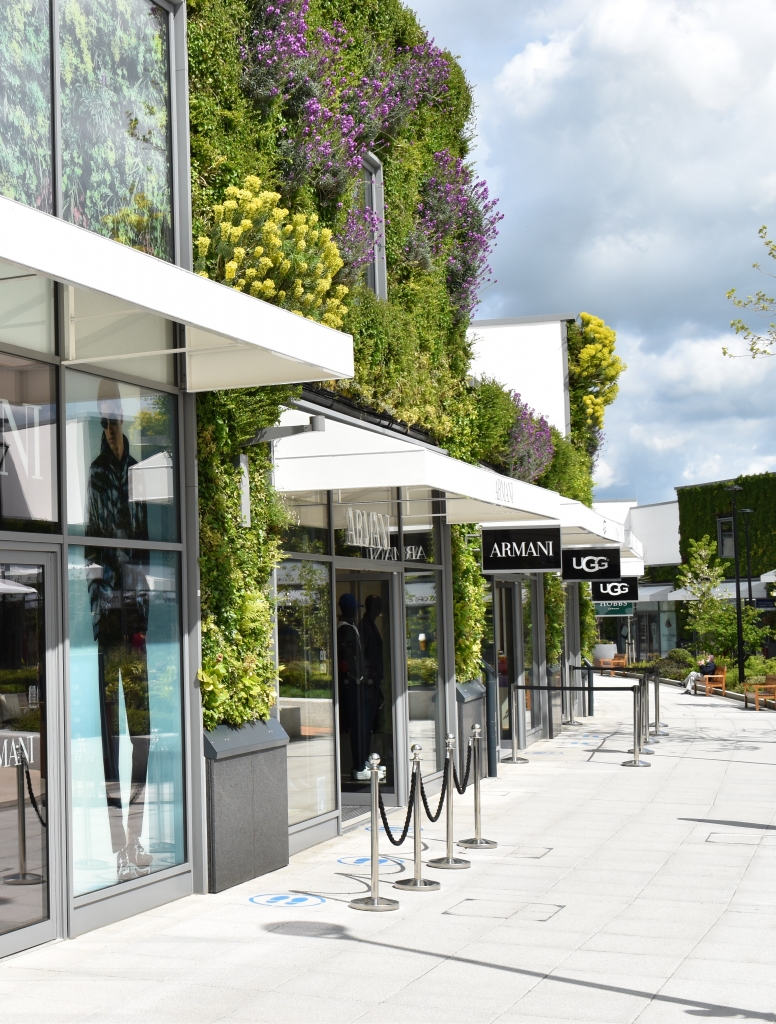 Fosse Park in south east Leicester showcases Biotecture's expertise in enhancing the shopping experience through biophilic design at a time when retailers are looking for different ways to attract people back to their shops. Owned by The Crown Estate, Fosse Park is one of Britain's largest out of town retail centres, and has recently undergone a £168m extension by Bowmer & Kirkland, increasing retail space by 40%. Biotecture's living walls were installed as a key architectural feature of the new retail space.
Thorpe Park Retail Park, Leeds
These living walls are a key part of the landscape strategy at this new build retail park. They help soften the hard edges of the retail buildings, improve the public realm and help with wayfinding.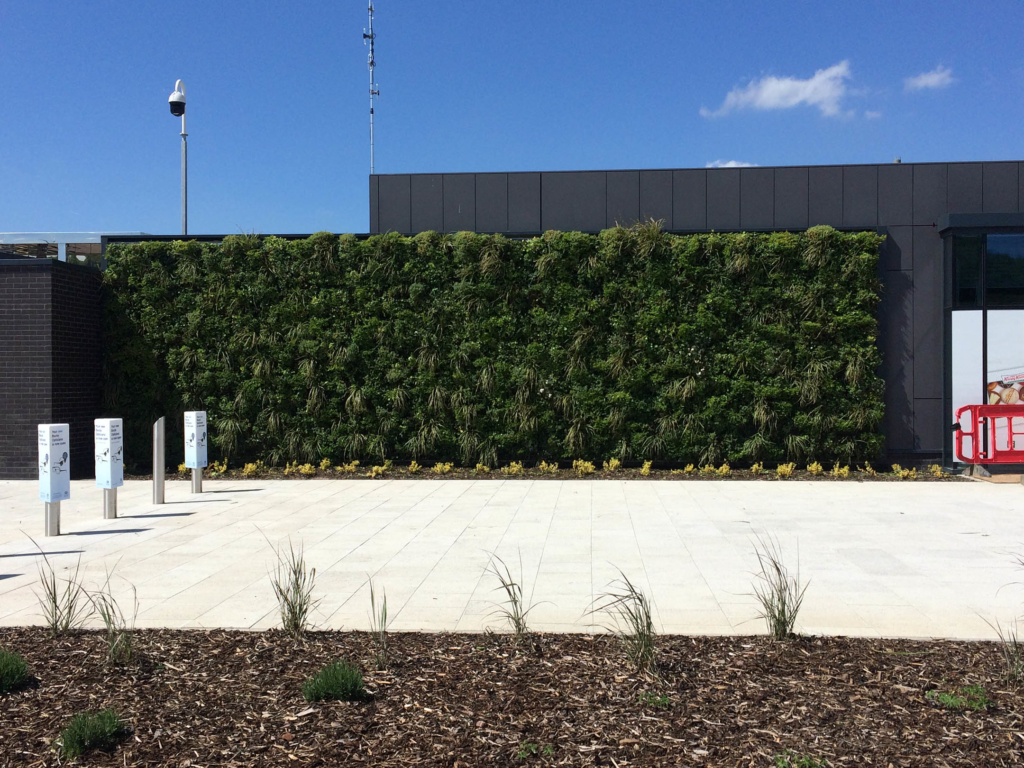 This series of three living walls was installed by Biotecture for Marks and Spencer, on a newly built store in Sevenoaks. The project was installed as part of Marks and Spencer's long-term plan to make their stores greener and more sustainable.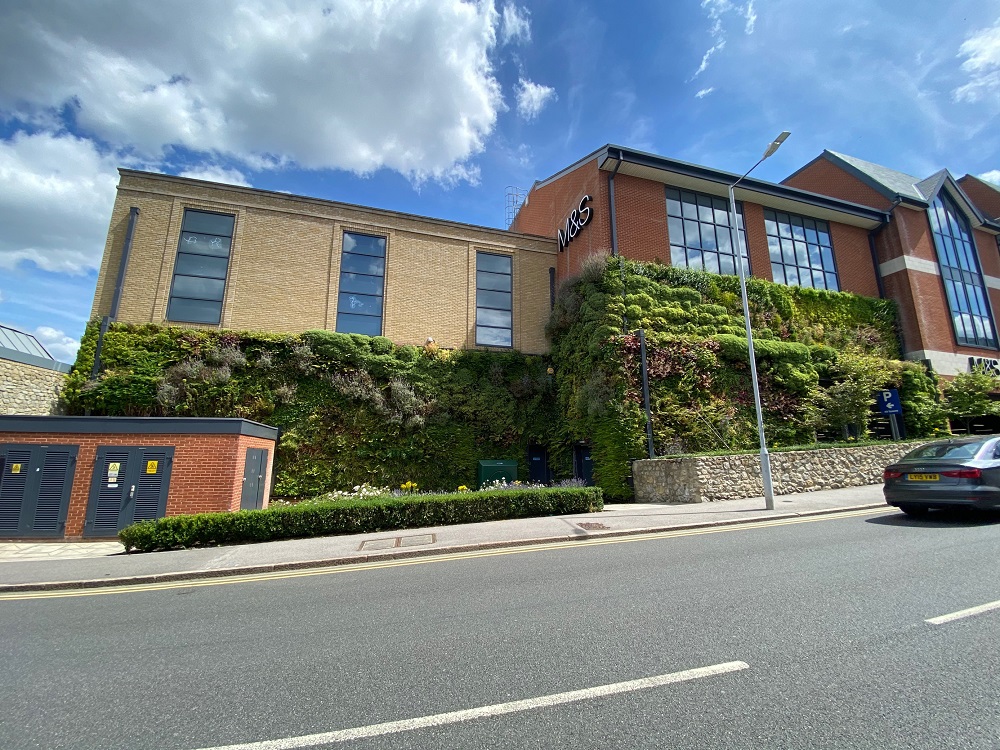 Car parks
Car parks are often the customers' first touch point with retailers, they present an untapped opportunity which creative landscaping can help address. The intelligent placement of greening can transform car parks into softer, more welcoming spaces. Dense planting can help muffle traffic noise and particular plants can be used to trap and process particulate matter from car exhaust fumes.
Bell Court Car Park, Stratford-upon-Avon
In 2016 Biotecture installed living walls on two elevations of the multi-storey car park at Bell Court Shopping Centre in Stratford-upon-Avon. The living walls have masked the car park and create a green backdrop to an outdoor seating area for restaurants nearby.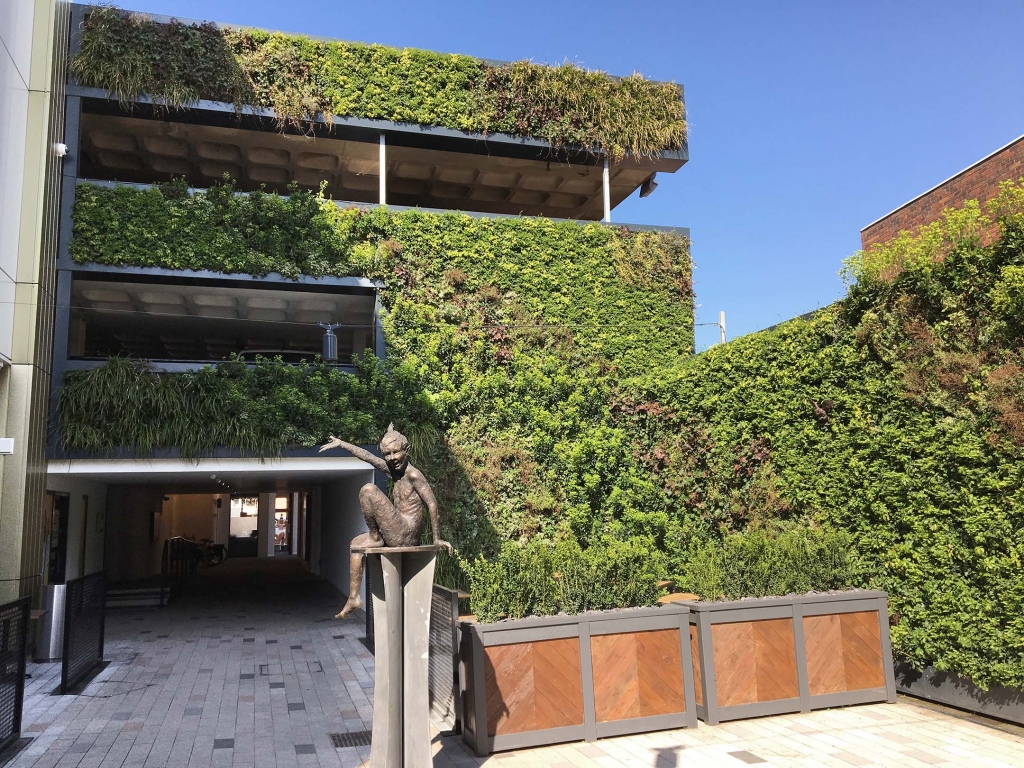 Cannon Park Shopping Centre Car Park, Coventry
Cannon Park Shopping Centre in Coventry is currently being transformed. The wider development led by MPR includes refurbishment of the existing shopping centre, a new 780 bed student residence and a new 400 space multi-storey car park. Biotecture worked with architects, Urban Innovations, to design and deliver 690m2 of living wall on the new multi-story car park. The introduction of this expansive living wall helped to satisfy planning concerns and creates a striking feature on what might have otherwise been a blank wall.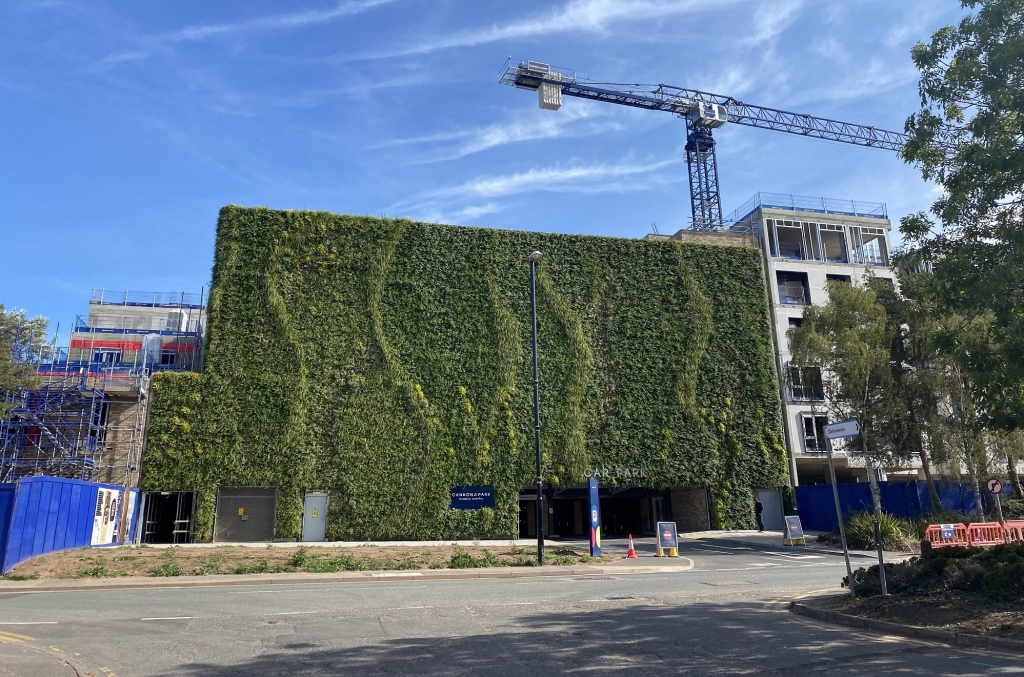 —
Our living wall systems, allow us to help bring greenery to projects of all sizes. Biotecture can provide  freestanding 'quick wins' with our PlantBox system or integrate living walls into the building's fabric with BioPanel.
If you would like more information on how we can help you with your next project, please get in touch.